NEWS
2019 Fuji America Sales Representatives Announced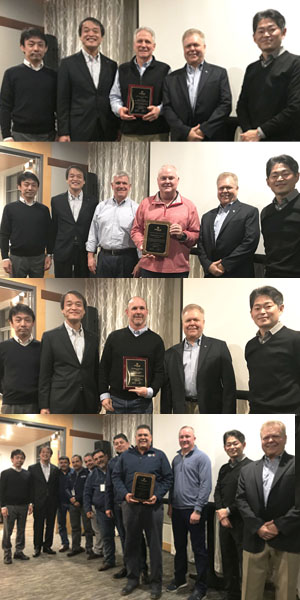 Congratulations to the 2019 Fuji America Sales Award Winners. This year's leadership awards recognized outstanding achievements, made in the Electronics industry, in the following categories:
Continued Sales Support Award: Paul Notti, Equipment Sales- North East
Sales volume Achievement Award: John Jarvie, Tim Geran, Equipment Sales- South East,
New Customer Achievement Award: Chris Lucas, Electri Rep
Sales Volume Achievement Award: PAC Mexico
The award winners were announced at an awards reception during the 2020 IPC APEX Expo in San Diego, CA. Each year, Fuji America Corporation recognizes outstanding representatives for their hard work and dediation. Candidates are nominated and chosen by management and technical teams.

Tom Zabkiewicz, Executive Vice President commented: "We are not only proud to recognize the achievements of this year's award winners but also the level of service and expertise within our entire North American Rep network. It's what sets Fuji America apart from the competition. How we treat and service our customers will always be our number one priority."
For more information on upcoming tradeshows and events visit our website: www.fujiamerica.com. Also, be sure to follow us on LinkedIn for the latest company news including NXTR and sFAB@.