SMARTFAB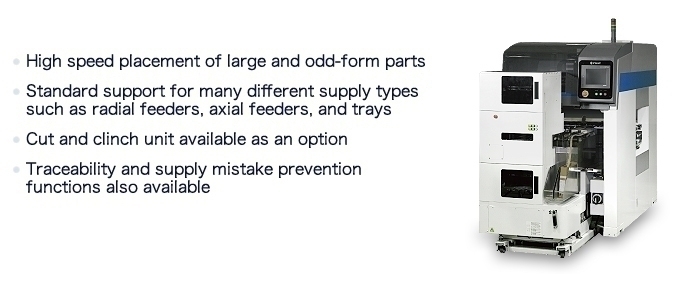 PCB Assembly (Insertion of Large Odd-form Parts)
Supports Various Part and Packaging Types
Freely combine a wide range of available units to create the perfect line configuration for your production needs.
SmartFAB can handle assembly of surface mount devices, leaded parts, and large connectors all at the same machine.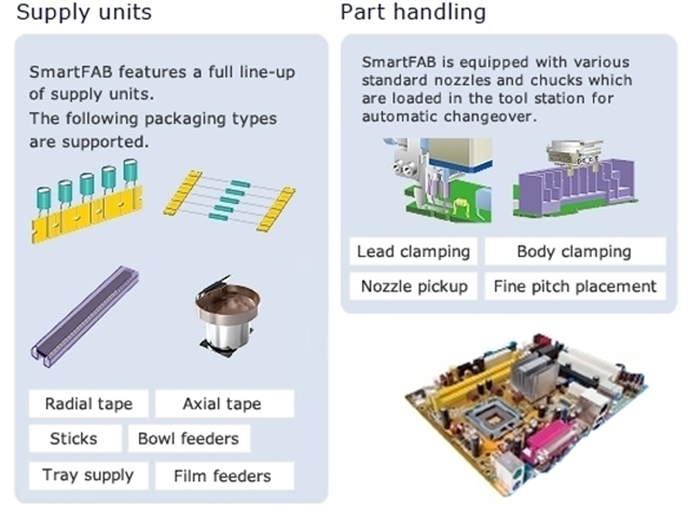 PCB Assembly Example
Insertion of 2 types of radial tape parts and 2 types of large odd-form parts
Different part handling units for various insertion parts
Tools for multiple parts are loaded in the tool changer and switched automatically
Parts that can be mounted/assembled
Axial and radial leaded parts, DIP parts*1, odd-form parts*2
PCB size (W x L)
48×48mm~435×500mm(single conveyor)
48×48mm~410×340mm(with cut and clinch unit)
Panel thickness
0.4~2.0mm
Part types
Axial leaded parts
(under development)
Insertion pitch: Changeable (up to 15mm)
Part packaging: Ammo pack, reel (tape width: 52mm)
Radial leaded parts
Insertion pitch:2.5/2.5×2/5mm Lead diameter: 0.4 to 0.6mm *3
Part packaging: Ammo pack, reel(tape width: 18mm Tape indexing pitch: 12.7 / 15mm)
DIP / odd-form parts
Maximum part size:160 x 160 mm or 226.3 mm diagonal (when using sH02 head)
Parts supply : Stick, tray, tape
Part insertion angle
Any can be supported (specified in increments of 0.001 degrees)
Options
Pins / leads check
Part presence check
Part insertion check
Insertion placement
Conveyor with cut and clinch function
Backup pins
Reject parts conveyor
Production information viewer
Simple verification
*1 DIP (dual in-line package): Parts with leads on the left and right.
*2 Odd-form parts: Parts other than axial, radial, or DIP parts which are inserted into panels.
*3 Please inquire with your Fuji representative about other parts.
*Contact Fuji or sales agents for specific operating conditions and detailed specifications.