AUTOMATION SOLUTIONS
Automation and Labor Saving Tools

Fuji Automation Solutions allow anyone to easily and quickly do the tasks previously performed by technical operators every day. By incorporating these tools with a production management system, improvements in quality, cost and delivery (QCD) is ensured. Automation has advanced drastically in the SMT field in recent years. Once focusing simply on processes the progression has led to entire lines utilizing various information, expanding entire factories as well as improving quality in overall automation. For processes after SMT stage like parts management and distribution, expensive manual labor is still being performed. For this,
Material Preparation
Reduce preparation time with timely guidance and accurate work
Part Supply
No need to monitor remaining part quantities manually
Maintenance
Maintain highly efficient production with predictive maintenance and ideal maintenance.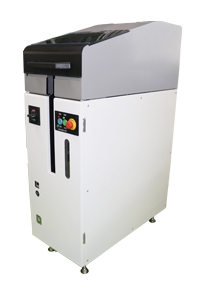 Auto Feeder Maintenance
Smart Nozzle Cleaner
Auto Head Cleaner
Auto Splicing Unit
Auto Nozzle Cleaner Unit